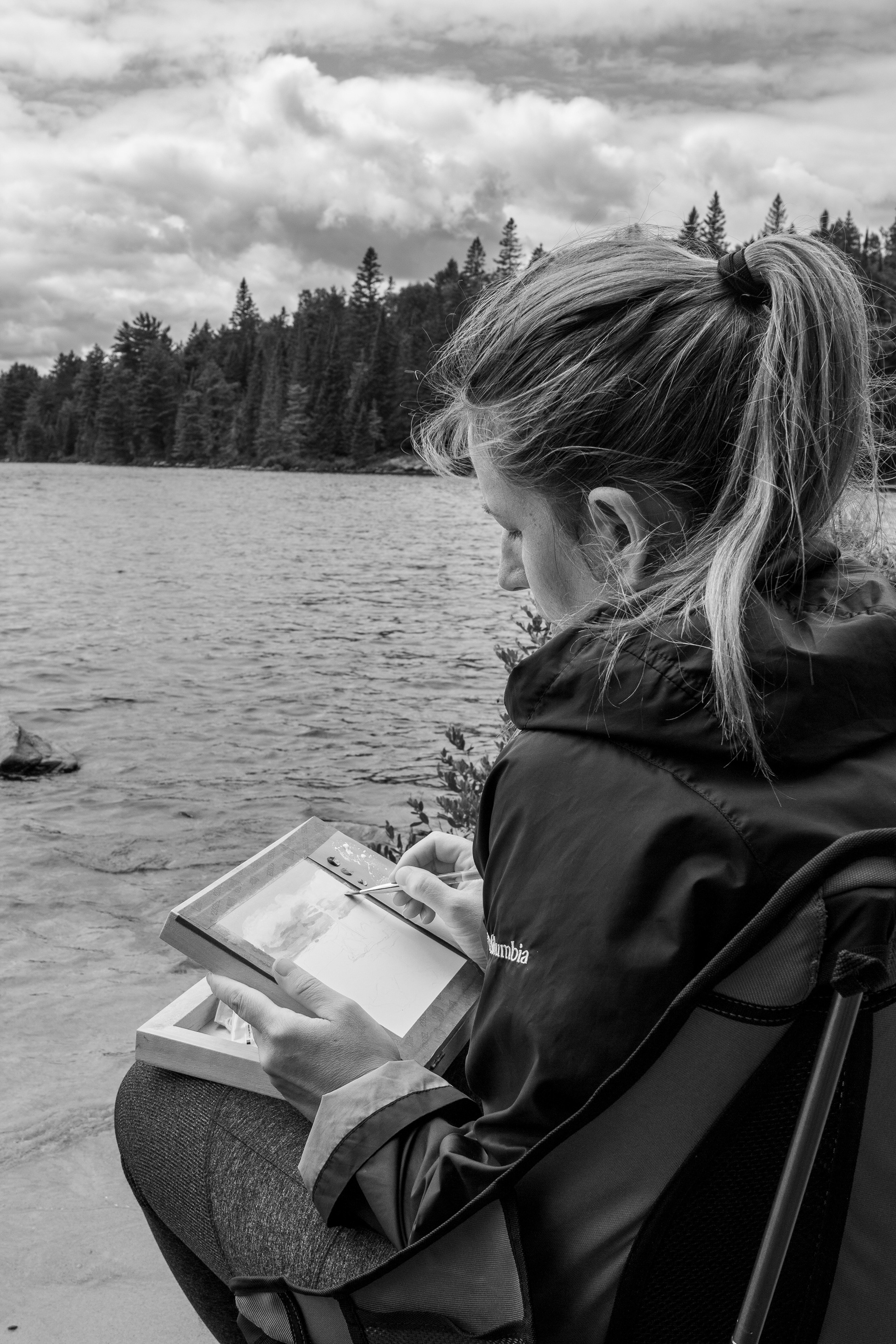 I'm always searching. My paintings are inspired by my surroundings, whether that be something i pass by everyday or something that is sought out in small adventures. I have an appreciation and connection of everyday beauty that we sometimes pass by without a thought. Using a limited palette i paint with small deliberate mark making and find myself getting lost in the subject matter.
I grew up above a shop. A daughter bred from music and sculpture, I've curved my way through life loving and living art. After receiving my honours in Fine Arts at The University of Guelph I went on to study Digital Media Arts at Seneca College. The years following school, I worked as a Digital Media Artist and an Assistant Manager of Harbinger Art Gallery. Finding the love of my life Jon, back where I grew up above the shop, I returned home to manage one of my parent's stores. Not long after, came marriage and our two beautiful children Ben and Marin. Since becoming a mom I have run my own business as a freelance Graphic Designer and started a business called Other Half Studio where I make wooden travel maps.
Together we have built a life in the most beautiful  rural village Creemore in Ontario, Canada. It's here that we have been inspired to live a simple life and spend time travelling the world bit by bit.
In my early art school days drawing, printmaking and sculpture was my main focus of study with a little bit of painting. Five years ago I took a year and studied portrait painting with Sara Sniderhan and have developed a new passion for painting. My printmaking and graphic design experience have lent themselves well to this medium. I can't seem to put my paint brushes down!
I'm very honoured to have received the Murray J. Clerkson award 2019 for an emerging artist from the blue mountain foundation of the arts.
So here I am, the artistic, entrepreneurial blood flowing through my veins, as I attempt to start a venture with some canvas and some paint.